Enabling the Nervous System
to Repair Itself
We create innovative treatments for
nervous system damage due to injury or disease.
NervGen (TSX-V: NGEN, OTCQX: NGENF) is a clinical stage biotech company creating innovative treatments that enable the nervous system to repair itself following damage. NervGen's lead drug candidate, NVG-291 is currently in a Phase 1 clinical trial. The company's initial target indications are Alzheimer's disease, spinal cord injury and multiple sclerosis.
~300,000
People Living with Spinal Cord Injury1
~900,000
People Living with MS2
~6,000,000
People Living with Alzheimer's3
1. National Spinal Cord Injury Statistical Center, 2021 Fact Sheet
2. National Multiple Sclerosis Society
3. Alzheimer's Association
"I have never seen a biotech investment company even come close to it.
NervGen has the potential for mind blowing yields!"
Dr. Mark Swaim
BioPub Editor in Chief
In this inspiring and heartfelt video, Dr. Jerry Silver, Professor of Neurosciences, Case Western Reserve University, shares his journey and how the research carried out in his lab led to the formation of NervGen.
The video highlights how NervGen is developing Dr. Silver's foundational discoveries into a disruptive technology that is aimed at changing the paradigm of how nervous system damage will be treated.
Dramatic Pre-Clinical Outcomes
Dramatic pre-clinical studies 
Key Investment Highlights
NervGen's lead product, NVG-291, is the only drug of its kind in clinical development
Phase 1 clinical trials are underway in using NVG-291 to treat nerve damage in Alzheimer's disease, multiple sclerosis (MS) and spinal cord injury.
Dramatic and unprecedented results have been achieved in preclinical animal trials
NVG-291 is the brainchild of world-renowned neuroscientist Dr. Jerry Silver and has been in development for over two decades.
Key Upcoming Value Drivers
Key Upcoming Value Drivers

• Initiate clinical trials in patients (H2 2022)

– Phase 2a in spinal cord injury

– Phase 2 in MS – Phase 1b/2a in Alzheimer's disease

• Awarding of DoD sponsored grants and related DoD collaborations (2022)

• Awarding of privately funded grants – core and additional indications (2022)

• Up-listing from OTCQX to Nasdaq (H1, 2022)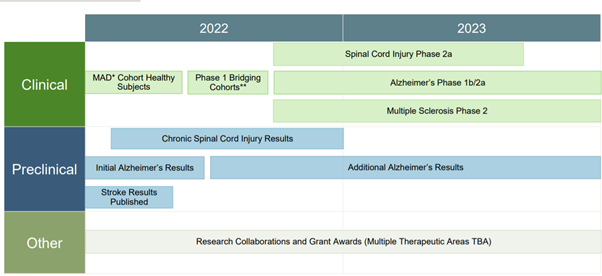 3 headlines for Comparables
Huitt Tracey
Corporate Communications
(604) 362-6209
htracey@nervgen.com
Nancy Thompson
Vorticom, Inc.
(212) 532-2208
nancyt@vorticom.com