By Codi Darnell
October 19, 2021
It's October – the month of pumpkin spice, Canadian Thanksgiving and Halloween. While pumpkin spice is the highlight for me, for the three kids in our house, it's Halloween. And the search for the perfect costume started early. It was possibly still September when I ventured onto Party City's website for inspiration, but before I could even start my search, my attention was hijacked, in a good way, by the photo that stretched across my screen: a family of four all dressed up and ready for trick-or-treating – the mom, channeling her inner "Pink Lady" from Grease, was a wheelchair user.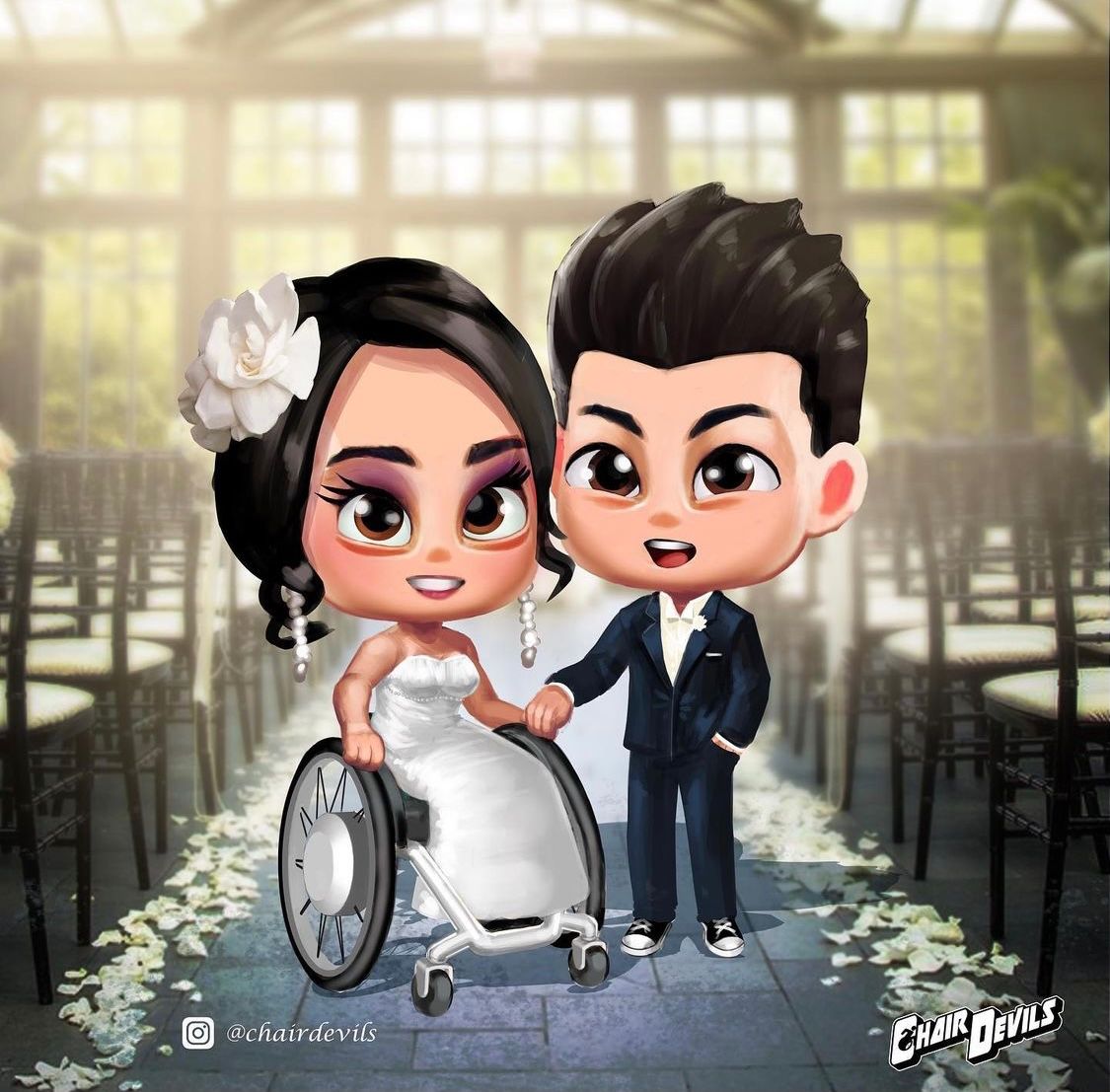 I'm sure there were plenty of people that didn't notice, many people that scrolled past, continuing their pursuit of all things Halloween. But I noticed – because I saw myself in this advertisement. Not just part of me, not just the mom part or the wife part or the wheelchair part, but all of me. I took a screenshot and shared it to my personal Facebook page with the caption "A nice surprise when I clicked on Party City's website".
However, as I kept coming back to it over the next several days, it occurred to me that seeing myself represented in mainstream media shouldn't be a surprise. I am a whole person. I'm one of many women, one of many mothers, who uses a wheelchair, and our realities should be mirrored in the media alongside others.
Since I was paralyzed in 2016, I have seen a shift – a shift towards inclusion, a shift towards authentic casting and a greater desire to get the stories of people with disabilities right. There are a lot of campaigns out in the world right now that strive to show people in all their forms. From the ads for American Eagle and UGG to toys like Barbie and TV shows and movies such as Sex Education and Ordinary Joe, there is a momentum building for change. But it's important that we don't let it become a phase – spotlighted for a moment in time only to be forgotten when the novelty wears off.
Kam Redlawsk is doing her part to keep the movement going. Together with her husband, Jason, they started Chair Devils, which grabbed my attention because it takes inclusive media into a whole new realm: animation.
What I love about their Chair Devil characters is that they depict people with disabilities living life. And that is the best way to integrate people with disabilities into media – authentically. It doesn't need to be about the wheelchair or the insulin pump or the assistive breathing device, it needs to be about the person. Just like in the Party City photo where all you see is a family dressed up and ready for Halloween, Chair Devil characters are seen on the tennis court, in the science lab, and in the gym, doing the kind of things they do every day.
I reached out to Kam and she was happy to answer a few questions about Chair Devils and her thoughts on representation.
What inspired you to create Chair Devils?
I've been an advocate for 14 years using blogging, photos, and art as tools to connect with others. On my Instagram, I'm fairly honest about the experience of living with a progressive muscle-wasting disorder that leads to complete immobility, and many times this honest sharing can circle around the constant loss and emotions involved. But I also wanted to positively show how I see the disability community; a community filled with amazing and thriving individuals who are living their life to the fullest, achieving their dreams and holding various interests. I think one of the biggest contributors to ignorance on any subject is a lack of exposure and representation, and, frankly, lack of imagination. Knowing the land of media, whether that's film, cartoons, books or ads, its obvious disability is never seen, and when it is it's typically attached to a medical or pharmaceutical ad or a sad melodramatic movie of a disabled character who serves as "inspiration porn".
I'm currently working on a children's book inspired by my rare disease, Monster and Me; my husband and I were sitting in the bed drawing, and we began drawing chibi-inspired wheelchair characters and I just thought, "You never see disability in the media, pop culture or children's media and that has to change."
I'm an artist, designer, and writer, and what better way to use our talents than highlighting issues and celebrating humanity – in all its forms.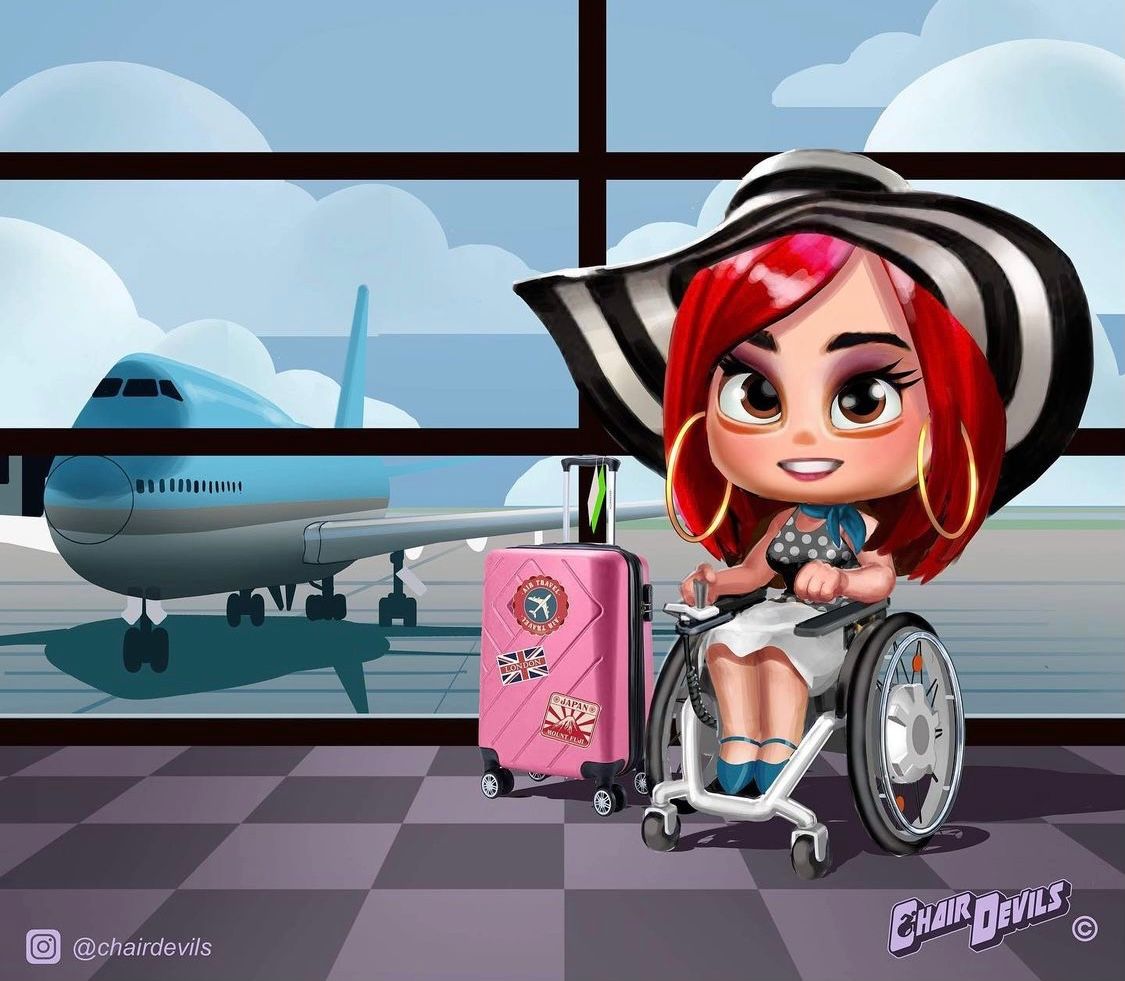 Why do you believe representation is important in the media?
Every day we take in thousands of bits of information and, without us knowing it, all this information collects and forms how we see the world, including our biases. Representation seems like such a moot point or minutia but it's an incredibly important contribution into understanding the world around us. We know what we see so "If you don't see us," as activist Jim LeBrecht said, "You don't think of us."
Representation provides familiarity and arms us with the knowledge of "oh, that's not so different after all … there's nothing to fear, pity or be afraid of; they're human …". This seems like the obvious but so many of us seem to forget this when we encounter anything or anyone that is different. And the media has the responsibility of expressing all forms rather than picking and choosing what THEY deem of value. This lack of consciousness stokes damaging myths, stereotypes, and ignorance.
How do you choose the people you draw and feature?
We began drawing neutral wheelchair characters in various careers, sports, interests, etc. That expanded to then highlight fellow advocates. We wanted to show our followers, many of them disabled themselves, real examples of other people with disabilities who are proving to the world what they are capable of and what they have to offer. We did this in the hope that it would inspire others to know that they don't have to accept how society sees them, that there is so much life to be lived and celebrated in the disabled form. And for our non-disabled followers, we want them to see the same, to familiarize them with real humans and not what's been projected in the media.
We choose features to Chair Devil not based on popularity (aka Instagram count), but their contribution to the conversation of disability and advocacy, their unique perspective. The most important thing is that they come off as authentic and genuine.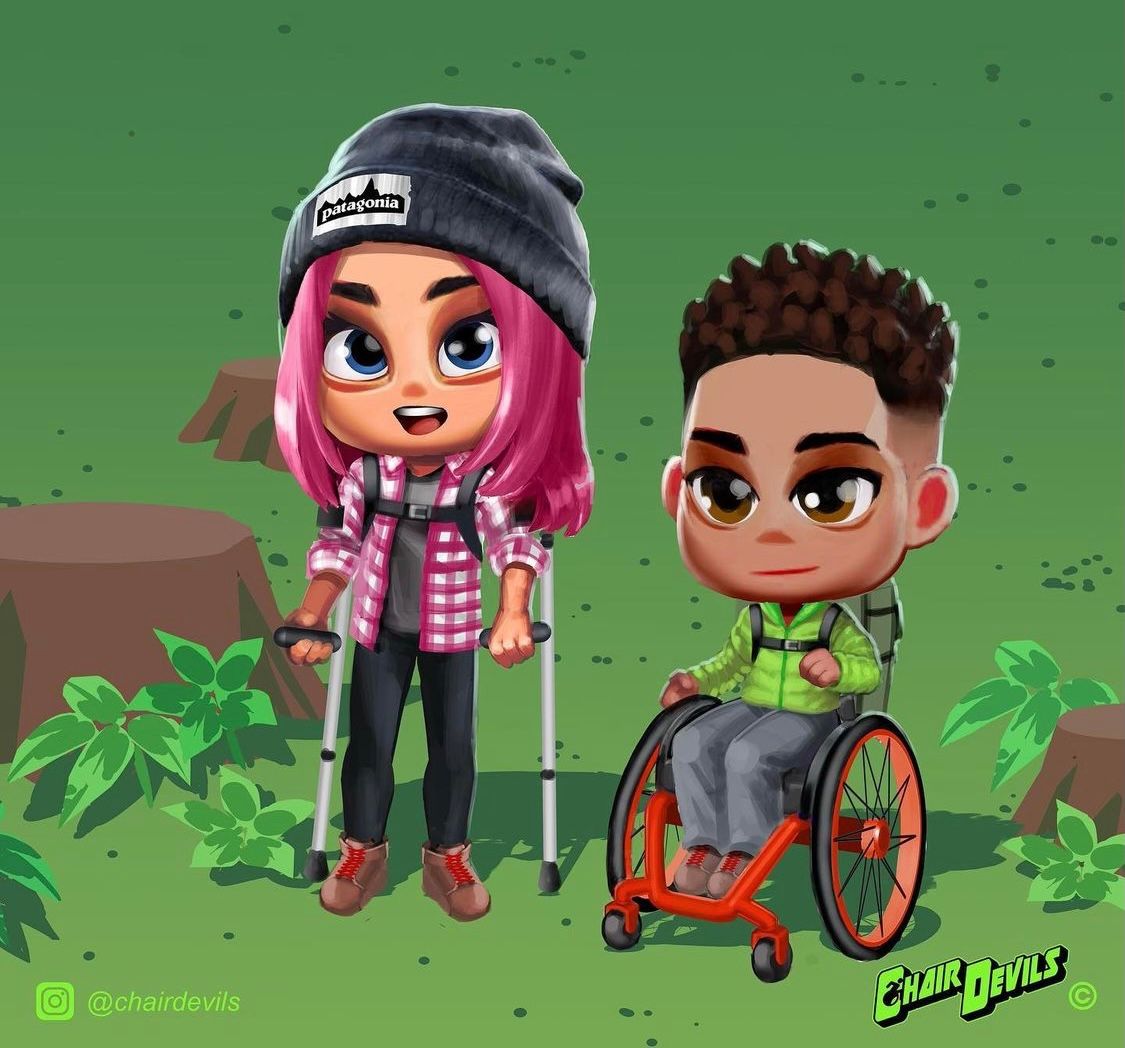 What do you hope people see in any particular Chair Devil feature?
We mostly want people to see their story and maybe even see themselves through our shares. I love stories; I think they're our connection to understanding, empathy, education and feeling the depths and diversity of the humanity that exists in this world. The art is fun, but it's meant to be a window into seeing something more, and even educate a little.
Although chibi (the style Chair Devils is drawn in) is a Japanese style of anime caricature, and thus typically only seen as light skinned, it was also important to me that we make sure to represent all skin tones and diversity.
What is your ultimate goal for Chair Devils?
We often get emails requesting commissions, but we don't do commissions. Occasionally, we do art raffle giveaways where any of our followers can submit, and we do a blind pick and then draw them. While we'd love to draw everybody, we both have full time jobs and use the time we have left to draw or develop because we have a bigger vision.
I was a toy designer for Mattel years ago, so I understand the process of making a product. My husband is a concept illustrator for the entertainment industry, specifically video games. We initially saw Chair Devils as a vinyl toy, and not just for kids, but for everyone, adults included. But it'd be great to pitch it as a show or cartoon and we hope to do this. I'm trying to finish my children's book, then we want to move onto focusing on developing the Chair Devils' world and what that looks like and see what happens. I wish I had the energy for all the ideas I have for different media projects; there's so much that could be done, so much untapped.