By Codi Darnell
November 15, 2022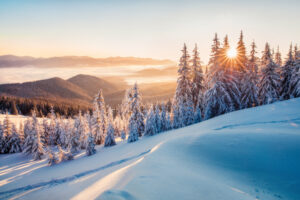 It may feel like fall just arrived, but we are one month away from winter. Yes, winter is coming with its shorter days, frigid temperatures, and falling snow. Whether you love it or hate it, if you live in an area of the world that sees the cold and snowy side of the season you must prepare for it. For instance, we change our car tires and footwear to better navigate the elements. But what about mobility devices? For anyone who has ever attempted to use a mobility device on ice and snow they know that they do not generally make a happy combination. The wheels on standard mobility devices lack the traction to safely navigate slick surfaces and when it comes to the white stuff, they sink hard and fast leaving the user marooned on their own snowy island. However, solutions do exist in the form of adapted equipment made for off-road adventures.
I set out to get an idea of the different equipment available and below are five adapted off-road vehicles available on the market right now. Each one can traverse all types of terrain, including snow and ice. But, from experience, snow can be tricky. With that in mind, I reached out to each company with one question: Your product can take people to places in nature they wouldn't be able to experience in their regular wheelchairs, but when it comes to snow and ice, what is it able and not able to accomplish? Here are the answers and an overview of these adapted all-terrain vehicles.
Mountain Trike
Website: https://www.mountaintrike.com
Instagram: https://www.instagram.com/mountaintrike/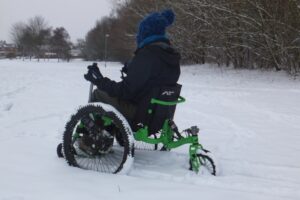 Based in the UK, Mountain Trike launched in 2011 and has since spread across the globe. Now encompassing a lineup of four different models, both manual and with electric assist, there are options to suit a wide range of ages and disabilities. It is a relatively lightweight option when it comes to off-road chairs and was designed with transport in mind. Their website is very helpful in this regard offering multiple ideas for how to make it work with your vehicle and will ensure you can get the Mountain Trike where you want to go.
Price tag: for accurate pricing, please look for your closest distributor here.
When it comes to snow and ice, what is the Mountain Trike able and not able to accomplish?
Hydraulic brakes and air suspension offer a safe and comfortable ride, and the unique lever drive system means no cold/wet hands. We have had lots of customers who have experienced riding over various levels of snow and ice:
pulling kids on sleds through the snow,
honeymooning in Iceland to help reach the various natural sites in icy and snowy conditions,
a family holiday to snowy Lapland,
navigating snowstorms in Colorado,
riding over a frozen Lake Windermere,
accessing the sidewalk on paths that don't get cleared from snow,
fun 'skating' at a local ice rink, and
many other UK customers generally having fun days getting out riding in the snow (on the rare occasions we get snow here in the UK).
Extreme, deep snow would be almost impossible to ride over, in a similar way that deep, soft sand is difficult, but it is very capable in most conditions.
Not a Wheelchair's The Rig
Website: https://notawheelchair.com
Instagram: https://www.instagram.com/notawheelchair/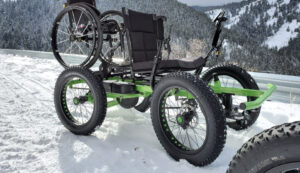 Not a Wheelchair's The Rig is somewhat of a hybrid, combining the manual steering and braking of a bike with the upright seated position and motor of an off-road vehicle. Created by husband-and-wife team Zack and Cambry Nelson after they couldn't find what they wanted in a price point they were comfortable with, The Rig launched in 2020 and has sold across most of the 50 states in the US. Outfitted with an extended rear that includes mounting points, this vehicle is great for getting into the outdoors and bringing your wheelchair, cooler, tent, or other supplies with you.
Price tag: US$6,150 to US$6,850
When it comes to snow and ice, what is The Rig able and not able to accomplish?
In response to this question, I invite you to check out this video of Zack and Cambry trying out The Rig in the snow.
Action Trackchair
Website: https://actiontrackchair.com
Instagram: https://www.instagram.com/actiontrackchair/
Facebook: https://www.facebook.com/ActionTrackChairs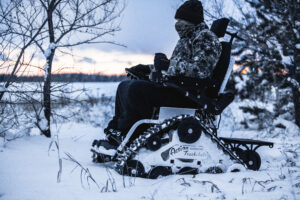 In an attempt to help his son venture off the beaten path, Tim Swenson built the first Action Trackchair from a broken boat seat and two tracks. That was in 2008, and since then that all-terrain power wheelchair has evolved into a company with multiple, customizable models that are available worldwide. Whatever the terrain, you choose from two types of crawler tracks based on where you want to explore. When it comes to transporting, keep in mind this is a big off-road vehicle and, as such, would require a truck or trailer to transport.
Price tag: US$13,775 to US$27,585
When it comes to snow and ice, what is the Action Trackchair able and not able to accomplish?
The advantage of tracks become realized on a soft surface like snow. The tracks disperse the weight of the machine. We tested our base model with a 180 lb. occupant and found that there are 1.6 lbs. per square inch which is less than the footprint found under the shoe that same 180 lb. person. This weight displacement allows the Action Trackchair to thrive in snow while also having enough contact with the ground to maintain traction on hills or slick surfaces like ice. We were founded and still exist in Minnesota, therefore capabilities in snow have always been at the forefront of our product development.
GRIT Freedom Chair
Website: https://www.gogrit.us
Instagram: https://www.instagram.com/gritfreedomchair/
Facebook: https://www.facebook.com/GRITFreedomChair/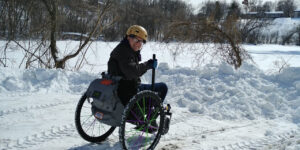 The GRIT Freedom Chair is the brainchild of Tish Scolnik and Ben Judge, two MIT graduates with a passion for accessible adventure and thoughtful design. This all-terrain manual wheelchair is powerful enough to navigate hiking trails and forge through the snow but compact enough to fit in the trunk of a car. With quick release components that allow for fast and simple disassembly, the GRIT Freedom Chair is probably the easiest of the five options to transport, making it a great choice for those with smaller vehicles.
Price tag:  US$2,995 to US$5,495
When it comes to snow and ice, what is the GRIT Freedom Chair able and not able to accomplish?
Snow is tricky, but it can be so much fun! The GRIT Freedom Chair shines on snow that is gently compacted and is naturally more of a workout on loose powder. The wider tires and larger front wheel mean you won't sink in as much, and the lever drive makes it easier to propel while keeping your hands dry!
Freedom Trax
Website: www.freedomtrax.com
Instagram: https://www.instagram.com/freedomtrax/
Facebook: https://www.facebook.com/freedomtrax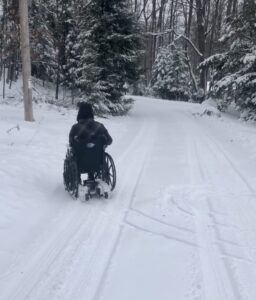 A patented idea in 1986 was the eventual inspiration for the Freedom Trax design in 2015. The unit uses the same technology as tanks (swapping wheels for tracks) to navigate obstacles and tricky terrain. Unlike many other all-terrain options, this motorized attachment allows manual wheelchair users to stay in their own wheelchair when they explore more rugged landscapes. The wheelchair user pushes themself up on top of the Freedom Trax unit, secures their chair in place, attaches the joystick in a comfortable position, and starts exploring.
Please note that it is necessary to have your own manual wheelchair to utilize Freedom Trax.
Price tag: US$6,355
When it comes to snow and ice, what is the Freedom Trax system able and not able to accomplish?
As a tank, Freedom Trax distributes the weight of the user evenly over the bottom of the track. Much like a snowshoe or a snowmobile, Freedom Trax can keep above the snow and not sink in like a wheeled device. In the worst winter conditions, small studs can be attached to the track allowing a greater deal of traction.
Because Freedom Trax is designed to be small enough to fit within a user's push wheels and lightweight enough to fit in the trunk of a car, it sits very low to the ground and only raises the user a few inches off the ground. With deep and soft snow, Freedom Trax would be limited by its ability to stay on top of the snow.
All Things Considered
The truth of the matter is that the softer and deeper the snow, the tougher it is for any piece of equipment to navigate. Even so, the options listed above are great ways to increase your outdoor enjoyment during the winter months (and all year round). But it is important to keep in mind that there is no one-size-fits-all piece of equipment. Just because it is labelled adaptive, doesn't mean it will work for everyone with a disability. Disability is multi-faceted, and it can take time to find the equipment that best suits an individual's needs. With that said, it is important to do your research and ask lots of questions.
Check websites and social media pages for personal testimonials. Check in the with the companies and local adaptive sports organizations to see if there is one nearby to you that you can try. And, as with all big purchases, check the fine print including shipping costs and return policies.
Finally, it would be negligent of me not to acknowledge the elephant in the article: these vehicles cost a lot of money. On top of all the other costs involved in having a disability, for many, these kinds of purchases are an extra that they can't afford. If you think this equipment would greatly benefit you but cost is a prohibitive factor, I urge you to not only look at financing options through the companies themselves, but also look at financial grants and crowdfunding options. It may take longer, but the reward of getting outdoors will be worth it.
For information on NervGen Pharma Corp., a clinical stage biotech company dedicated to creating innovative solutions for the treatment of nervous system damage, please follow us at www.nervgen.com.