By Codi Darnell
October 4, 2022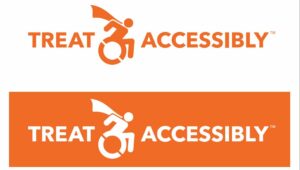 For many children around the world, trick-or-treating is a rite of passage. Come October 31st, neighbourhoods fill up with parading princesses, werewolves, PAW Patrol pups, and stormtroopers, all with one common goal: knock on all the doors and fill up your bag with as many goodies as you can. However, it isn't always so easy. The simple fact that most houses have stairs to their front door means that many children with disabilities end up left on the sidelines – or, more accurately, at the bottom of the stairs – making the entire experience much less sweet. It is a situation the Patterson family knows all too well, and one that the non-profit organization Treat Accessibly is working hard to remedy.
Lana and Shaun Patterson are parents to two boys, ages 11 and 9, and Mickey, the younger of the two, is a lifelong wheelchair user. Not only does Mickey have the most infectious smile, but he has tenacity of someone well beyond his young age. I met him when he was just four years old and, if I can describe his personality in one sentence, it would be Put me in coach. However, his desire to ­­­­­join in is constantly at odds with our largely inaccessible world. For Mickey to be part of the action, Lana or Shaun often need to carry him out of his wheelchair – something that's become more difficult as he's grown.
When it comes to trick-or-treating, the lack of accessibility is even more apparent as it is a barrier at house after house. The physical demands of carrying Mickey to the door means they often skip houses, but there is also the emotional impact. As Lana says, "It's not like Mickey is left behind once or twice. It happens over and over again at 30-second intervals which is emotionally challenging for him." And when he does skip a house, his brother or a friend will ask for another treat, continually explaining the situation and putting Mickey in the spotlight.
Enter Treat Accessibly.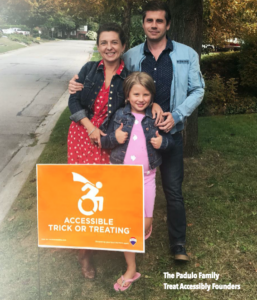 Treat Accessibly is a non-profit organization in Canada working to make trick-or-treating a fun and easy activity for children of all physical abilities. Their goal is simple: remove the physical barriers that block access to the experience.
This initiative was born in 2017 when the Padulo family put a single lawn sign out in front of their house letting neighbours know that they would be offering an accessible trick-or-treating stop. On Halloween night, they set up their treat station at the end of the driveway instead of the front door and they welcomed seven families seeking accessibility. None of them had ever seen a home actively create an accessible experience before.
That night, the Padulos – Rich, Natasha, and their daughter Siena – decided that they wanted to expand this movement. Since then, Treat Accessibly has partnered with RE/MAX, Kinder, and Canadian Tire. Together they have seen huge growth in their cause with 100,000 homes across Canada participating in 2021, and Siena, now 11 years old, won the Rick Hansen Foundation Difference Maker Award for her advocacy of Treat Accessibly in her school.
To promote their cause, throughout October 2022 Treat Accessibly, along with their partners, will hold 7 Halloween Villages across Canada. These are held in different neighbourhoods around the country and are intended for children with disabilities and their families to experience curbside, accessible trick-or-treating. The villages are also there to encourage others to do the same in their own neighbourhoods on Halloween night.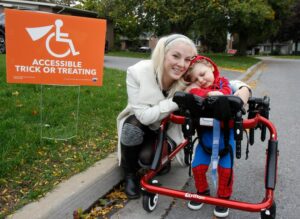 When I asked Lana and Shaun what it would mean to their family if a local neighbourhood was committed to an accessible trick-or-treating experience, they had this to say,
"COVID Halloween actually gave us a glimpse of how much easier it could be. People handed out treats at the edge of their front yards and along the sidewalks which meant Mickey was able to be in his chair all night AND be with his friends. He didn't miss out on anything.
If a local neighbourhood was committed to an accessible Halloween night, it would take the load of trick-or-treating off our backs as well as our hearts. It would mean Mickey would be included instead of trying to keep up and trying his best to join in when and where possible."
Creating accessibility on Halloween night means making space for everyone to be seamlessly involved without the need to notice anyone for anything except their awesome costume. And by making the trick-or-treating experience more accessible for children, it also makes it easier for parents who use mobility devices – nobody wants to miss out on hearing their child's first "Trick-or-treat!".
If you are interested in getting involved by making your home an accessible trick-or-treat stop, I urge you to check out Treat Accessibly's website and Facebook and Instagram pages. The lawn signs are free from participating RE/MAX offices or can be printed at home from the website. Remember that the entire Treat Accessibly movement started with just one house. Your home can make a difference too.
For information on NervGen Pharma Corp., a clinical stage biotech company dedicated to creating innovative solutions for the treatment of nervous system damage, please follow us at www.nervgen.com.