By Codi Darnell
July 26, 2022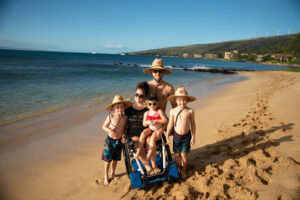 Nothing screams summer quite like a day at the beach. There are beaches covering thousands of miles of coastline around the world, and even more that surround the lakes and rivers further inland. In any beach town, both locals and tourists flock to sandy shores for everything from suntanning and swimming to beach volleyball and sandcastle building. But for all the activities and fun beaches offer, they often lack one very important thing: accessibility.
In the United States alone, there are millions of people who live with mobility issues, and a lack of accessibility at public beaches often means many of them resort to watching the action on the beach instead of being part of it. Whether a person uses a mobility device or is simply unsteady on their feet, attempting to traverse sandy shores can be difficult, dangerous, and for many, even impossible. But all is not lost; solutions exist. The trick is to get communities across the globe to make accessibility a priority. Keep reading to discover some of the ways to make the beach more accessible.
Beach Mats
There are some things you expect to see spread out in the sand: towels, umbrellas, sand toys, coolers. And then there are things that make you do a double-take, which is exactly what I did the first time I saw a long blue mat rolled out atop the sand. These moveable paths create a solid wheelchair-friendly surface over the sand, and they continue to pop-up at more beaches every year. They are a great option that allow people to get closer to the water's edge, sometimes further. They even make it easier for strollers and wagons. But of course, as it only provides a single path, one cannot travel very far. Enter the all-terrain wheelchair.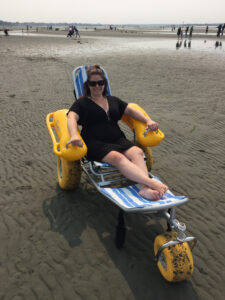 All Terrain-Wheelchairs
Wheelchairs that can navigate beach terrain come in many different shapes and sizes (and with many different price tags). While there are some incredibly innovative options available to purchase that allow an individual to propel and steer themselves manually or electronically, they often come with the highest price tags. The most common type of beach wheelchair you'll find available for use at public beaches are ones that require an able-bodied partner to push.
If you're an independent person, it can be difficult to allow someone to take over the reins while you sit. The first time I used one I felt a bit like a child being pushed in a stroller. However, once I was able to get onto the beach again and get close to my kids as they searched for crabs and built sandcastles, I forgot all about it. The joy of participating far surpassed any self-consciousness.
Another perk to these chairs is that many can actually enter the water allowing an individual the opportunity to experience more of the natural world around them.
Washrooms and Changerooms
Like anyone who heads to the beach for the day, people with limited mobility are going to need a washroom. And, like anyone who gets up close and personal with the sand, they are going to need a changeroom. These spaces need to be thoughtfully planned with plenty of space for not only the individual, but also their mobility device and, potentially, another person (or two) if the individual's care requires assistance.
Picnic Areas
Public picnic areas at beaches give groups a place to connect and share meals together. But just as there are individuals who cannot throw towels and picnic blankets down and eat their meals on the ground, neither can everyone use a standard picnic table. Providing accessible picnic tables that leave an empty space where a wheelchair user can pull up is a simple and thoughtful solution that ensures that nobody is left ostracized from their group.
Parking and Walkways

The last thing any community wants to do is increase accessibility on the beach and neglect the accessibility leading up to it. By having ample accessible parking spots, properly graded ramps that are well maintained, and ensuring that all points of access are barrier-free it will be clear that the space is designed with ease-of-mobility in mind.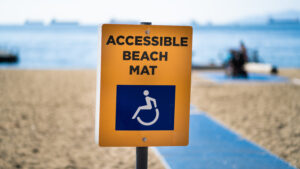 Now What?
If you want to see your local beach make a change towards accessibility, use your voice, send an email, make a phone call, send photos and links to available products. These products aren't prototypes – they are ready and waiting to be put into action so that the joy of the beach can be experienced by everyone.
Here are links for more information on some of the products listed in this article.
https://www.mobi-mat-chair-beach-access-dms.com
https://www.accessrec.com/ada-beach-access-mats-accessmat
https://www.vitalitymedical.com/beach-wheelchairs.html
For information on NervGen Pharma Corp., a clinical stage biotech company dedicated to creating innovative solutions for the treatment of nervous system damage, please follow us at www.nervgen.com.