By Codi Darnell
May 3, 2022
Welcome to our blog series: The Outdoor Diaries. This series is about exploring the natural world from the perspective of people with chronic conditions and/or mobility issues. While the benefits of nature are for everybody, access to it isn't always quite as simple.
---
"Skiing and sunshine, what more do you need?" – Katie Combaluzier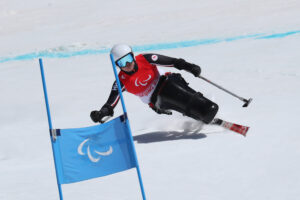 Sometimes it takes people long into adulthood to discover their favourite pastimes. Some people never find it all, and others try something at a young age before their brains may even remember it, and it ignites a passion in them that can't be extinguished. For Katie Combaluzier, that was skiing.
Katie was two years old the first time she clipped into a pair of skis and took to the snowy hills of Ontario. From then on, she was hooked. She spent every winter weekend of her childhood with cheeks flushed from the cold as she honed her skills at Craigleith Ski Club. By the age of 10, she was racing competitively, and after university she spent a season skiing full time in British Columbia. Katie says, "I skied 113 days that season. I couldn't get enough." At the heart of it though, Katie couldn't get enough of the outdoors in any season. She says, "Despite growing up in the city, I craved nature." She especially craved the mountains.
Katie says her love for the mountains is hard to describe but "something about the enormity of the mountains makes me realize how small I am in this world and ignites a passion to explore, a desire to venture off the beaten track and experience what the earth has to offer". And so, she sought adventures hiking, camping, and exploring around the world; but skiing was still her first love. She dreamt of skiing in the Alps, she dreamt of representing Team Canada at the Olympic games, she dreamt of a life exploring the natural world.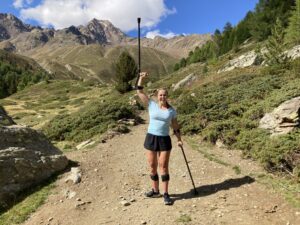 Eventually, Katie came to understand she probably wouldn't be a contender for the Olympic Winter games, but, in 2018, she saw her dream of skiing in the Alps become a reality. Unfortunately, that dream quickly turned into a nightmare when, shortly after her group started their descent down the mountain, an avalanche broke underneath them. When the snow settled, Katie's skiing partner had succumbed to a head injury, and Katie was left with a damaged spinal cord resulting in instant paralysis.
Despite her spinal cord injury and the avalanche that caused it, Katie wouldn't stop doing what she loved, and, 10 months later, she was back on the mountain being introduced to the world of sit-skiing. When asked about her fears of getting back on the mountain she said, "My passion for skiing outweighed any fears. My worst fear in life was becoming paralyzed, and that had already happened. And I was okay; I could move forward knowing that I had the strength within me to tackle any challenge thrown at me."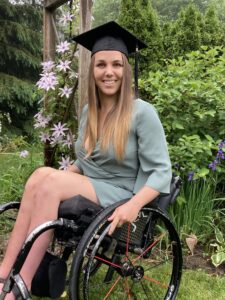 It was her passion, strength, positive outlook, and talent (and the help of the Canadian Adaptive Snowsport (CADS) Association) that led Katie to skillfully tackling black diamond runs within a few days of her first lesson. By her second season on the sit-ski, she was learning to race.
Over the course of the next two seasons, she progressed from the provincial team in Ontario to the Canadian Para Alpine Ski Team, competing both within Canada and internationally. But it was in January 2022 when an old dream was reignited. In Lillehammer, Norway, Katie won 3 medals at the world championships and qualified for the Winter Paralympics in Beijing. She came away from the Winter Games having placed 7th and 8th in slalom and giant slalom, respectively; but, more importantly, having accomplished her goal of enjoying the experience.
Katie's appearance at the Paralympics won't be the end of her sit-skiing journey because skiing is a part of her. She says, "It doesn't matter if I'm skiing with my legs or sit-skiing, I'm out there doing what I love. The feelings of the rush of the wind on my face, the crisp cold snow flying off my skis, and the mountain views are all the same." But one thing that has changed is how much she appreciates her ability to be on the mountain. Katie says, "When I am on the mountains now, I don't take life for granted. I constantly remind myself how lucky I am to be there and to savour every moment."